The EMMETT Technique impacting lives
We love hearing from happy clients about how the EMMETT Technique has improved their quality of life, however, we wish to stress that the technique DOES NOT treat illnesses, diseases, syndromes or medical conditions. It is a relaxation technique that can create some surprising results!  The following client stories are in their own words and are published with their permission. Each individual is unique and the response they experienced with the technique may not be representative of the population as a whole.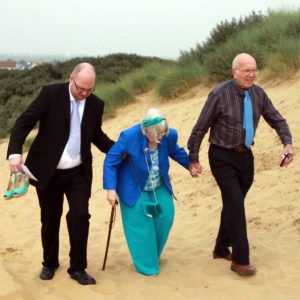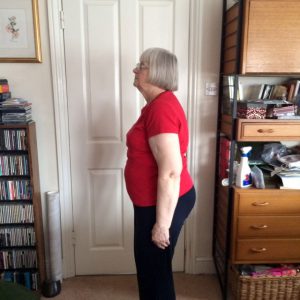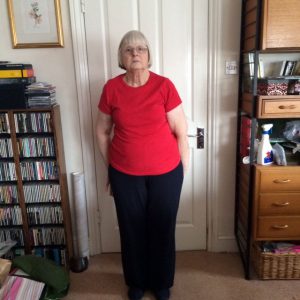 With just one EMMETT Technique move, Valerie had a significant posture change. Thank you for allowing us to use your photos.
EMMETT Technique helps me to walk with confidence
I have benefited from EMMETT Therapy since April and have found that in this relatively short time, my problems have become easier to live with. Having been diagnosed with Parkinsons, I was finding balance a real issue and walking about unsteady. With this help every five weeks, I feel so much better in myself. My core stability has been restored and I can walk around with much more confidence. The pain I had experienced over a long period of time in my arm has also significantly reduced.
In my opinion, I do not believe that tablets alone would have had this effect. I think my general feeling of well-being is due in no small measure to my EMMETT treatments. It is not easy to put into words the benefits I have experienced, but I believe I now have a better means to cope with my condition, thanks to the energy and feeling of wellbeing that this treatment promotes. It is great to find something that has a good effect from the outset without quickly wearing off. If you feel better in yourself you can find the determination to face what life throws at you.
Julia TM, Devon
EMMETT Technique releases my lifelong shoulder pain and restriction
I'm a 46-year-old woman and I have suffered with back problems as long as I can remember. I have had lower back pain and a slight scoliosis. I had round shoulders with very limited movement in my upper spine my shoulders were so tight. I felt trapped in my own body. I have had endless treatments and therapies to alleviate pain and to help loosen the tight muscles over the years. Massage, Alexander technique, Shiatsu, reflexology, osteopaths, physiotherapists, chiropractors, and MRI scans and even back rehab. Nothing gave me the release I longed for. Until now…. with one astonishing EMMETT Technique session. I had heard some amazing stories and felt quiet skeptical but decided to experience it for myself anyway. Words cannot truly describe how I felt. What I didn't expect was a complete change in my body physically to look at as well as the freedom in my muscles to move in a way I had never been able to move before. I had a complete emotional and physical letting go. I had never experienced any thing like it. My shoulders are visibly different, they are relaxed and not rounded forward as before – this happened instantaneously. When I left I felt like a different woman, I walked with my head held high with a straight spine, it makes ones outlook on life so different. I was more grounded, balanced and strong in my body. I know it sounds corny but I felt I could take on the world. The freedom in my shoulders is so incredible I went home and shouted from the roof- tops to family and friends who thought I had gone crazy.  It was one of the most incredible things I have ever experienced.
Beverly Dunn Clark. Surrey
EMMETT Technique resolved my sciatic pain when nothing else did
I have suffered with a tight right buttock muscle for several years, which gets worse during long car journeys and develops into sciatic pain that can last several days. In the last 6 months I have noticed when riding my dressage horse that I am unable to correctly use my right leg without increasing the buttock pain and the right hip feels very weak when I get off. I have had a range of treatment for this but with very limited results. Last weekend I attended Modules 1& 2 of the Emmett practitioner training. I volunteered to be the demo body for the EMMETT points for "tight buttock muscles". While the EMMETT points were rather tender I felt an immediate release. The drive home that evening caused no sciatic pain. The drive to the second day did cause the muscles to tighten but still no sciatic pain. The Instructor repeated these points on me and now 8 days later I have had no buttock tightness and no sciatic pain. I have also found I can ride my horse in a more correct body position. To get rid of my "pain in the bum" was alone worth coming on this course.
Tracy Morgan, McTimoney Chiropractor
EMMETT Technique got me running the London Marathon
I started training for the London Marathon in mid November 2010. Having been experiencing some hip pain, I went to the Doctors to get the all clear and x-rays confirmed nothing was amiss. My training was going really well until the Kingston Breakfast run 3 weeks before the marathon. I ran 17.5 miles that day and ended up with terrible pinching in my right hip. I could barely walk for days. The Doctor referred me to a sports physician privately and from there on for aggressive physio on my psoas. 2 weeks prior to the marathon I still had severe back pain, to the point that I could not sleep and could barely move. I was in agony. Luckily, a friend referred me to an EMMETT Practitioner a week and a half before I was due to run the marathon. The results were instantaneous. I got most of my mobility back and the pain subsided enormously. A second treatment 4 days before the marathon gave again immediate results – I was completely pain free and I had full mobility back. After a test run of 3 miles I realised that I would actually be able to give the marathon a shot! The miracle is not just how effective this treatment is but also that it could endure someone running 26 miles! The day itself was an emotional experience – it was truly incredible, but it brings tears to my eyes typing this due to the wonderment of this therapy and I feel so incredibly lucky and grateful to have found this amazing treatment. I still can't believe how something that is so subtle and non-invasion can have such incredible results.
Sarah, Surrey
I released my own heel pain with the EMMETT Technique
I had had bilateral achilles/heel pain for 3 years before I came across EMMETT and relief from this painful, tedious condition. I have seen Doctors, consultants , physiotherapists for this condition over the years and nothing had helped. Not even resting as the condition returned as soon as I resumed my normal role as a fitness instructor. With EMMETT my feet/legs had a strong release as all the tension just drained away. The procedure, self administered for several weeks, gave me a marked improvement in pain and movement. With regular maintenance I am now pain free.
Wendy Hamilton, Body Control Pilates Instructor and Personal Trainer
EMMETT Technique gave my neck more freedom
I have suffered with pain in the left side of my neck going down into my shoulder for years. Having had all sorts of treatments over a long period I didn't have much hope of the treatment being successful, especially as the physio I saw told me it was age-related arthritis and nothing could be done. After just one treatment my pain disappeared completely. I can now fully turn my head from side to side with no pain. I was also treated for face pain and pain behind the eye. The improvement is amazing!
Pauline, Leicestershire
EMMETT Technique put my ankle right
My left ankle becomes weak and painful very easily. I have seen physios and a podiatric surgeon and followed their advice. The best answer has been to rest it. The last time, I waited 8 weeks for it to heal but then attended a Pilates class where I was lifting my weight onto my toes, and the next day my ankle was bad again. My Pilates teacher treated me with the EMMETT technique the following week. I then built up my distances for walking with occasional twinges and 3 weeks later I was absolutely better and walking up to 7 miles.
Ann Hutt, Surrey
If you would like to leave a testimonial, complete the form below
Please note submission of a testimonial signifies your acceptance that it will be placed on our website
and may be used on social media for promotional purposes.