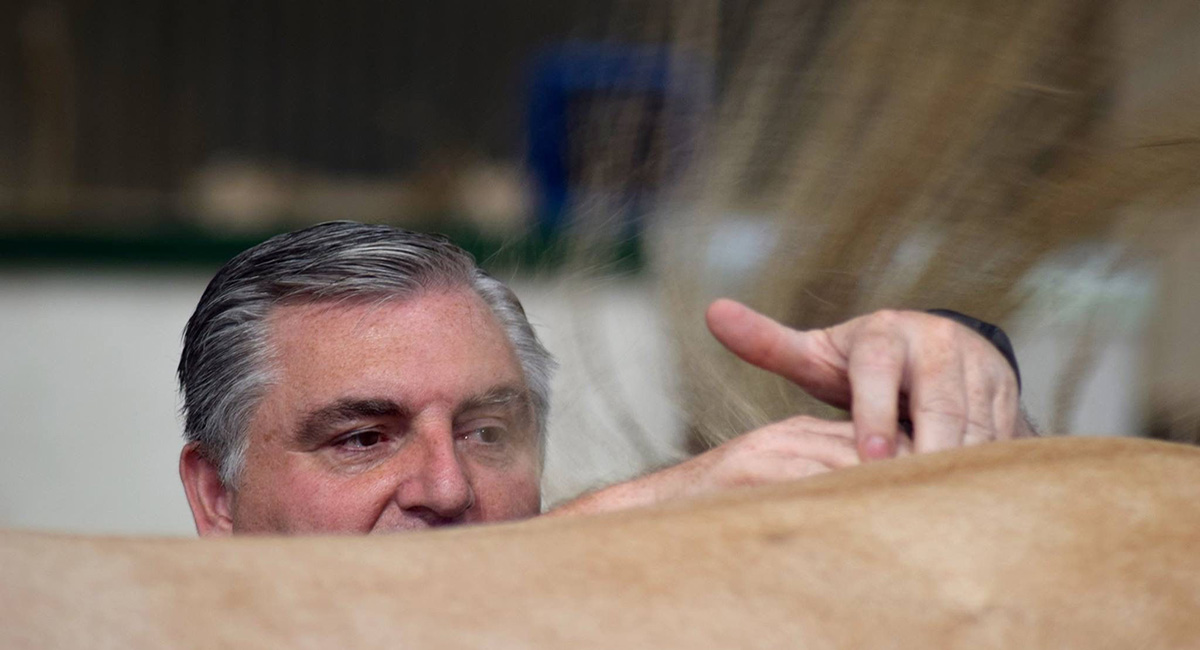 Horse Introductory EMM-Tech Short Course
Would you like to learn a simple method to help keep your Horse feeling comfortable and at ease? If so this course is for you!  The introductory Horse Short Course was created by Ross Emmett so that everyone would have the opportunity to use some of his work to help their horse, friends and family. 
The  course contains 6 moves which have been specially selected from the Horse EMMETT Technique Practitioner Course.
The course is conducted over 6 hours. No prior experience is necessary to attend a course. It can be taken by anyone over 16 years old.
Level 1
Overview and Aim of Workshop
About Ross Emmett
EMMETT Principles
The Chameleon Club – the 7A's (subconscious triggers for healing)
Forearm – People
Spinal Balance
12th Rib/Lumbar
13th Rib/Psoas stretch
Hamstrings
12th Rib/Hip
SCM – People
Neck release
13th Rib/Inguinal
Shoulder extension
Leg extension
Level 2
Review of Level 1
Latissimus Dorsi – People
Latissimus Dorsi
Rhomboids
ITB
Sacral Notch/Hip
Diaphragm – People
Recovery – People
Diaphragm
Recovery
Abdominal release
Shoulder/45
Level 3
Review of Level 2
Pectoralis Minor release – People
Pectoralis release
Neck/Wither
Oesophagus release
Shoulder lift
Rhomboid/Neck
ITB/Sartorius – People
Power Push
Foot flex – Foreleg
Foot flex- Hind leg
Level 4
Review of Level 3
Gastroc – Calf release – People
Spinal Tap
Jaw – Tongue
Jaw
Back release
AC/Biceps – People
Thigh
Hindquarter release
 Neck/Chest
Deltoid/Neck
Level 5
IT Band – people
Alternate Hamstring release
Alternate Psoas release
Patella support
Calcaneous – People
Dorsum – People
Triceps
Alternate Hip release
Thoracic Spine crossover
Latissimus/Adductor crossover
Long Back release
Bowel release
Level 5 Review/Accreditation
Review of Level 5
Assessment of applications the technique
Is this the course for me?
This course is suitable for all complementary therapists, Veterinary professionals, coaches or instructors interested in expanding their therapeutic skills. These include:
Massage therapists
Chiropractors
Physiotherapists
Vetinary Surgeons
Vetinary Nurses
Osteopaths
Bowen therapists
Dog Groomers
Animal Body Workers
But don't let that impressive list of professionals put you off because undergraduates and non-therapists are also welcome to attend. There are no pre-requisites and the instructors approach each class as if everyone has the same very basic knowledge, so it's easy for everyone to keep up with the learning!
Although there is no case study workload, students are encouraged to maintain a reflective journal as a way of self-evaluating their accuracy and process towards creating successful outcomes for clients.
The main complementary therapy insurance companies will cover EMMETT Technique practitioners and students within their existing insurance policies.  Please refer to your insurance company for confirmation.
What will I learn?
You will learn how to apply the EMMETT Technique and how it was developed. You will learn to quickly and effectively assess the areas of tension in your client's body and how to locate the appropriate EMMETT point requiring desensitisation.  Participants typically comment on how much their anatomy knowledge and understanding deepens as they progress through the course.  The following areas of the body are focused on as these are commonly presented by clients: core muscles, lower back, thoracic back, shoulder, lower legs, foot balance, and symptoms such as decreased flexibility, lack of impulsion and body dis-ease. You will also learn and about the "Chameleon approach" that makes  EMMETT so powerful.
How will I be assessed?
Students are supervised during practice sessions and extra assistance will be offered where required, so all students will become competent and confident with the moves.  Each move will be revised at least once within the context of the training sessions.  A written and practical assessments is offered at the final stage of training at Level 5 Review and a Certificate of Proficiency will be awarded when a pass is achieved.  This qualifies the participant as an EMMETT Technique Practitioner for Dogs. Assessment is optional. A Certificate of Attendance is provided where the student chooses not to be accessed.   Although there is no stated number of case study hours required students are encourage to record their experiences in a reflective-learning journal and ask questions which can be shared and raised at the following level.
Will I be able to use EMMETT with my current therapy?
Definitely, for sure, absolutely!!! Students are encouraged to incorporate the EMMETT Technique with their current skills and not "throw the baby out with the bath water", thereby enhancing the value of their existing skills.  One of the benefits of the EMMETT Technique is that it provides therapists with complete freedom to integrate the technique with what they know or, under certain circumstances, to use it exclusively.
How does it differ to the Bowen Technique?
Despite the similarities between Tom Bowen and Ross Emmett, the EMMETT Technique is NOT a Bowen Therapy nor a derivation of it.  Developed long before Ross was introduced to Bowen Therapy, the EMMETT Technique is a unique form of body therapy. There is no skin slack; there are no prescribed procedures; instead therapists are encouraged to respond to the client moment by moment. Overwhelming feedback from Bowen Therapists is that the EMMETT Technique has transformed their practice; in particular the speed with which they can effect change for their clients, dramatically improving their results and professional reputation.
Can I use the EMMETT training days as Continued Professional Development?
This will depend on which professional body you have membership of.  If you contact your own association and enquire whether you will be allowed to claim CPD. EMMETT Therapies UK is happy to help by providing them with information about the course for them to evaluate.
Veterinary Act
The Veterinary Act (1966) states it is illegal for any person, other than the owner of the animal, to treat an animal unless the permission of the animals Veterinary Surgeon is sought and obtained. Therefore to protect your dog's welfare veterinary consent (written or verbal) must be gained prior to Emmett therapy. The EMMETT Technique is an allowable therapy with the RCVS.
From April 1st there were changes to the course booking system with the introduction of a non-refundable element and an Early Bird and Late fee as follows:
Course fees are due in full at least 3 weeks prior to the course start date. Course fees paid within 3 weeks of the course will attract a higher fee. All bookings are subject to a non-refundable element due at the time of booking.
Each two day Practitioner course has a GBP 300 Early Bird fee. Fees paid within 3 weeks of the course date are charged the Late fee of GBP 340 . The non-refundable element is GBP 60.
Each one day Practitioner course has a GBP 150 Early Bird fee. Fees paid within 3 weeks of the course date are charged the Late fee of GBP 170. The non-refundable element is GBP 30.
When a student chooses to repeat a Module, having already taken and reviewed it, they may repeat any individual Module or any individual day for half price.
The course fees are applicable for both the EMMETT Technique Practitioner Course and the Advanced EMMETT training.
For workshops conducted in Ireland, Euro payments are accepted to the equivalent GBP  value.
Course dates and venues are subject to change. Please keep this in mind when booking transport and accommodation.
Refund and Cancellation Policy:  Cancellations made to 21 days prior to a workshop will receive a full refund (minus the  non-refundable element from April 1st). Cancellation fees will be calculated at 50% of the course fee if cancellations occur within 20 – 2 days (48 hours) of a workshop. No refund will be given for cancellations within 48 hours of a workshop.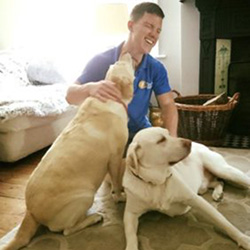 "When deciding to undertake the Emmett 4 Dogs course I said to myself 'Begin at Level 1, sleep on it, see how you feel and then decide whether you'd like to proceed'. This frugal attitude went entirely out the window after halfway through the first day when I approached Tony and requested I be signed up for the entire course. I simply HAD to know the technique!
Since then I have avidly looked forward to and enjoyed every module of the course. It is by far and away the most enjoyable CPD I have ever undertaken; lovely dogs; fantastic, like-minded people; enjoyable technique to deliver and astounding, immediate results.
Be forewarned; it's wonderfully addictive!"
Alex Barrie – Emmett Practitioner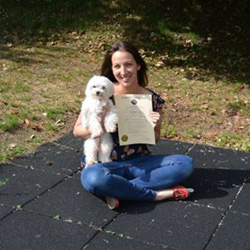 Learning EMMETT 4 Animals is one of the greatest decisions I have made.
Learning with Tony Sherry is fun, relaxed, and informative! Tony is extremely knowledgeable, and creates a great learning environment to build confidence.
Starting with the EMMETT 4 Animals Dog short course, this was a great introduction to the EMMETT Technique. In this jam packed day of learning we saw great changes in our rescue dog, so much so I signed up to complete the EMMETT 4 Animals Dog Practitioner course. This really has been Life changing for me and our Dogs. Since learning to touch the lives of dogs with this technique it really has made my Life feel full of purpose!
If you are thinking of taking part in a short course and/or practitioner course, this is the beginning of something so incredible you will wonder why you hadn't started before!
Thank you Tony for bringing EMMETT into our lives.
Fiona Ross – Emmett Horse and Dog Practitioner
If you would like to receive information on our Dog courses, please complete the form below.
You can unsubscribe at any time by clicking the link in the footer of our emails.
We use Mailchimp as our marketing platform.
By ticking the box at the end of the form to subscribe, you acknowledge that your information will be transferred to Mailchimp for processing.